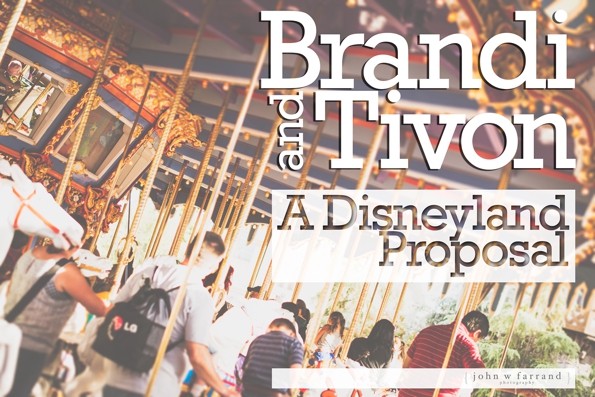 May 31, 2013
Disneyland. Carousel. Proposal. Exciting! Beautiful. This time, an ACTUAL ENGAGEMENT! :)
1 Comments
What an experience this was!  At work last week, Tivon pulled Melissa aside and said, "I've been dying to tell SOMEONE!"
He pulled out the ring box, opened it and said, "I'm going to propose to Brandi this weekend!  Is there ANY way you guys can make it down?"
Well, lets see… Disneyland, engage…. of forget the reasons!  Of course we'll be there!!  "We'll find a way!"  Melissa told him excitedly, after catching her breath.
So here we have it, two amazing people who have chosen to spend their lives together… AND they're planning an amazing wedding in a special place, but I won't share that here just yet.  We'll probably do an official engagement session soon with these two, but wow!  What an emotionally exciting day this was!!
Tivon told us as we were getting on the Carousel that he was going to do it, Melissa and I both experienced small heart stoppages.  We were excited and nervous for him, and didn't want to spoil it with our excitement.  We tested our best poker faces.  Apparently it worked, because Brandi had no idea!  If you look at the third picture down, you'll notice Tivon pulling the box out of his Chewbacca backpack, then "counting down" with his fingers behind his back (I only got "two" sadly).  After he opens the ring box to Brandi, she didn't notice at first.
I love the last picture.. I was walking behind them, and Tivon just raised his arm winningly.
Thank you Tivon and Brandi for letting us be apart of this special moment in your lives, it was definitely special to us.  We are honored.